Broken City's patio is Calgary's best kept summer secret. Nestled up on a quiet rooftop overlooking 11th Ave SW, our patio has been a second home to those who know. Whether it's wiling away a gorgeous summer evening sipping on pints with friends, or chasing a hangover brunch with an ice-cold Caesar; from DJ sets that have you dancing into the night to live bands sweating it out underneath glistening blue skies, our intimate patio has become synonymous with flawless summer memories. Come and join us on the roof for a pint and a bite, we promise you'll fall in love.
We'll be sending out little twitter messages (for your convenience) any time that we're certain it's going to be open. If you haven't got us on your twit-friend's list,
follow us @TheBrokenCity. So, Add that up and get ready to have a blast with us!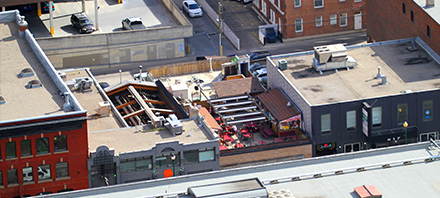 .